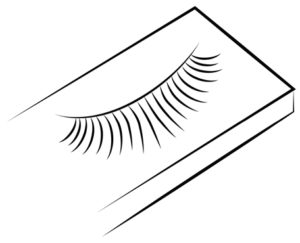 1. Remove lashes from tray
With your hands or a tweezer, gently and slowly peel off the lashes carefully from the tray.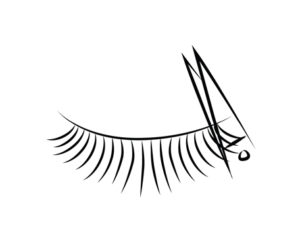 2. Measure and trim
Hold the lashes to your lash line to determine the measurement against your own.  If required, evenly trim any excess length from the outer corner with scissors.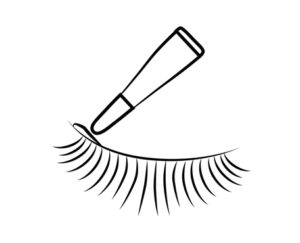 3. Apply lash glue
Using a cotton bud apply a thin layer of lash glue along the lash band and wait for 30 seconds to dry.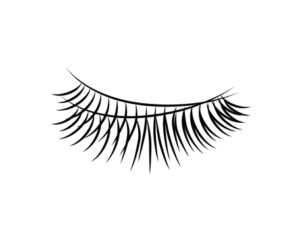 4. Adhere and hold
Carefully either with your fingers or a tweezer, apply the lashes to the base of your natural lash line.  You have some time to adjust if you need to.  Hold in place and wait for a few seconds for it to dry.
5. Curl (Optional)
You may use an eyelash curler to further blend the lashes with your own to create an even more natural effect.  With your curler, clamp your own eyelashes with your Inana lashes together and hold for 30 seconds on each side.
Removal
1. Eliminate Glue
Gently apply some oil-free eye makeup remover on the eyelash line and allow this to dissolve in.
2. Carefully remove lashes
Gently pull on the tip of the band and peel off.  Do not remove from the tips of the lashes as this will damage them.
3. Clean lashes
Peel off any leftover lash glue off the lash band. Doing this will keep your lashes lighter and bendable, so you can use them comfortably and for a longer time.
4. Store in case
Hygiene is important so to prevent dust or any germs from collecting on your lashes make sure you place these back in the original box where they are safe.  This will also keep their original shape.
Aftercare
Love your Inana Lashes.
To ensure a maximum lifespan, do not soak your lashes in water or chemicals.
With the right care and affection, your luxury lashes should last up to 8-10 uses.
To preserve and prolong the usage of your lashes, do not pull on the lash tips and always handle them with care.
Should you experience any issues with your lashes please contact us.